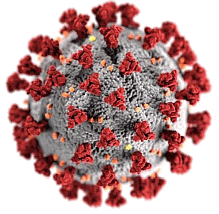 COVID-19
Long-Haul Symptoms


This webpage contains information I have collected about the "long haul" effects of COVID-19

I am interested in the subject because of the following:

I have a Master's Degree in Chemistry, and can understand medical/research journals
My COVID-19 history

Took the J&J vaccine in March
Contracted the Alpha (original?) version in May, and experienced long-haul symtoms
Contracted the Delta version in early fall
Took the J&J booster in December
Contracted the Omicron version in January

I have a personal interest in "curing" my long-haul symptoms

This webpage should NOT be considered medical advice; it is just a collection of information

First, I will give you some basic information about some interesting chemicals
and symptoms, then I will relate them to long-haul COVID

ATP is the "universal" energy molecule in the body.

Adenosine Triphosphate @ wikipedia.org (01/22)

ATP provides energy to drive many processes in living cells
ATP is found in all known forms of life
ATP is the "molecular unit of currency" in intracellular energy transfer
Chemical processes regenerate ATP so that the human body recycles
ITS OWN BODY WEIGHT worth of ATP each day; this is equivalent to a
recycling rate of 1000-1500 times during a single day
ATP is a precursor to DNA and RNA, and is used as a coenzyme
ATP is composed on a nitrogenous base (adenine), the sugar ribose, and
the triphosphate (the ATP molecule is shown above)
ATP is also used in a form of signal transduction which is particularly important
in brain function
ADT is one of four monomers that are required in the synthesis of RNA
ADT serves as a neurotransmitter in many parts of the nervous system

Adenosine @ draxe.com (01/22)

Copper is essential for the synthesis of ATP
HMB

L-Leucine

Leucine @ wikipedia.org (01/22)

Leucine is an essential amino acid that is used in the biosynthesis of proteins
It is essential in humans, meaning the body cannot synthesize it; it must
be obtained from the diet
A tolerable upper intake for leucine in healthy adult men can be suggested
at 500 mg/kg/d or 35 g/d under acute dietary conditions
In healthy individuals, approximately 60% of dietary l-leucine is metabolized
after several hours, with roughly 5% (2–10% range) of dietary l-leucine being
converted to HMB
Phosphorus @ wikipedia.org (01/22)

Phosphorus is a chemical element with the symbol P
Phosphorus is an element essential to life due to phosphate compounds
Phosphates are a compoenent of DNA, RNA, ATP, and phospholipids

Phosphorus for Health Professionals @ ods.od.nih.gov (07/21)

Phosphorus is a component of bones, teeth, DNA, and RNA
Phosphorus in seeds is in the form of phytic acid, the storage form of
phosphorus. Because human intestines lack the phytase enzyme, much
phosphorus in this form is unavailable for absorption.
Phosphorus and calcium make up hydroxyapatite
In the United States, dairy products contribute about 20% of
total phosphorus intake.
The absorption rate for the phosphorus naturally contained in food is
40%–70%; phosphorus from animal sources has a higher absorption rate
than that from plants.
In infants, phosphorus bioavailability ranges from 85%–90% for
human milk to approximately 59% for soy-based formulas.
Phosphorus is available in dietary supplements. Phosphorus in
supplements is usually in the form of phosphate salts (e.g.,
dipotassium phosphate or disodium phosphate) or phospholipids
(e.g., phosphatidylcholine or phosphatidylserine). Products typically
provide 10% or less of the DV for phosphorus.
The bioavailability of phosphate salts is approximately 70%.
High phosphorus intakes rarely produce adverse effects in healthy people.
Antacids that contain aluminum hydroxide, such as Maalox HRF and Rulox,
bind phosphorus in the intestines.

Symptoms of Low Phosphorus

MountSinai.org (01/22)

Symptoms of phosphorus deficiency include loss of appetite, anxiety,
bone pain, fragile bones, stiff joints, fatigue, irregular breathing,
irritability, numbness, weakness, and weight change.

Phosphorus @ homeoint.org (01/22)

Symptoms related to low phosphorus

Mind: great lowness of spirits, easily vexed, fearfullness, easily startled,
loss of memory, brain feels tired
Head: vertigo, neuralgia, brain fog, losing hair
Eyes: eye fatigue, edema of eyes and eye lids
General Information

D-Ribose & Alzheimer's Disease

D-Ribose & Leg Cramps

D-Ribose & Long-Haul COVID

D-Ribose & Heart Disease

D-Ribose & Fibromyalgia

D-Ribose @ globalsweet.com

Ribose is a naturally occurring sugar that helps to generate and recover ATP levels
(adenosine triphosphate (ATP) is the body's primary energy carrying molecule).
ATP keeps your heart beating, muscles contracting and cells functioning. High levels
of cellular energy are required to keep tissues running at peak performance.
Reports have also shown that Ribose can lower blood sugar levels.
There is no known reason for people developing Fibromyalgia. However we do know that
people who have this condition also have low ATP levels and a reduced capacity to produce
ATP in their muscles. Ribose fuels ATP synthesis which reduces muscle pain and enhances
the quality of life for those suffering with fibromyalgia and/or chronic fatigue.

DoctorMyhill.co.uk (01/22)
Symptoms of COVID

Standard list

Fever or chills
Cough
Shortness of breath or difficulty breathing
Fatigue
Muscle or body aches
Headache, vertigo
New loss of taste or smell <==
Sore throat
Congestion or runny nose
Nausea or vomiting
Diarrhea

Symptoms of Long COVID @ www.who.int (01/22)

Shortness of breath
Cognitive dysfunction, which people call brain fog
Fatigue
Anxiety or depression
Muscle aches <==
Fever
Loss of smell, loss of taste <==

Phosphorus and COVID-19

Low Serum Calcium and Phosphorus in Detecting COVID-19 Patients @ pubmed.ncbi.nlm.nih.gov (07/21)

Low calcium and low phosphorus are more prevalent in severe or critical
COVID-19 patients than moderate COVID-19 patients
Calcium and phosphorus combined with lymphocyte count could obtain the best
discriminative performance for the severe COVID-19 patients

SARS-CoV-2: Influence of Phosphate and Magnesium @ journals.physiology.org (07/21)

SARS-CoV-2 may induce a cytokine storm that drains ATP whose regeneration
requires phosphate and Mg
Symptoms observed in severe COVID-19 also fit well with those seen in classical
hypophosphatemia and hypomagnesemia
"We, thus, argue that patients with COVID-19 should be monitored and treated
for phosphate and Mg deficiencies, ideally already in the early phases of infection."
PDF Version of the Article (07/21)

Chloroquine is typically supplied as a phosphate salt (12% P), and can
supply 10%-20% of the recommended dietary intake for phosphate.

I had almost no sense of taste or smell after my original bout with COVID.
When I started taking Phosphorus supplements, my taste and smell returned; I also
had more energy and felt MUCH better.
Pathological Sequelae of Long-Haul COVID

Pathological Sequelae of Long-Haul COVID @ nature.com (08/22)

Persistent, prolonged and often debilitating sequelae are increasingly recognized
in convalescent individuals, named "long-haul COVID"
Long-haul COVID is similar to the post-SARS and post-MERS syndromes
Depression, anxiety and post-traumatic stress disorder (PTSD), are reported in
patients with post-COVID syndrome
Gastrointestinal symptoms, including diarrhea, nausea, vomiting and abdominal pain,
are reported in 15–50% of patients
Patients with long COVID report aloss of appetite, abdominal pain, nausea, weight loss,
altered bowel motility patterns and new or exacerbated irritable bowel syndrome
Patients who recovered from COVID-19 also showed significantly higher fasting insulin
levels, resulting in persistent glycemic abnormalities in 35% of 551 patients for at least
2 months after COVID-19
Up to 20% of patients may complain of persistent hair loss
Reports of improved clinical symptoms on administration of anti-SARS-CoV-2 vaccines in
patients with post-COVID syndrome have led to suggestions of a viral reservoir in patients
with post-COVID syndrome
SARS-CoV-2 can potentially persist in specific tissues in a manner that would be
consistent with the persistence of other nonretroviral RNA viruses

Reactivations or Reinfections

Understanding the Outcomes of COVID-19 @ microbiologyresearch.org (05/22)

There is evidence for highly prolonged shedding of COVID-19 in respiratory and faecal
samples, periodic recurrence of PCR positivity, and instances of reinfection associated
with a lack of protective immunity
Prolonged shedding occurs irrespective of disease severity or development of
virus-nuetralizing antibodies
COVID-19 shares characteristics with other RNA viruses such as hepatitis C; these
are capable of long-term persistence
Initially it was found that COVID-19 shedding occurred for about 17-18 days,
with 20 days for severe cases.
Immunocompetent subject remained PCR-positive for longer than 50 days, and in some
cases were shedding virus for up to 104 days.
There is a frequent reactivation of virus shedding post-COVID-19.
Several studies document frequent reactivation after 50 days or longer.
Prolonged, reactivations or reinfections all occurred irrespective of the presense
of neutralizing antibody to COVID-19.
The occurrence of prolonged infections was unrelated to the severity of COVID-19.
Reinfections iwth COVID-19 can be as pathogenic and prolonged as primary infections.
There is evidence for widespread systemic infection in the GI tract, heart, kidneys,
and central nervous system.
A recent study had documented the presense of COVID-19 RNA in the olfactory
neuroepitheium in patients 110-196 days after COVID-19. These subjects reported
persistent or intermittent loss of smeel and taste dysfunctions.
A large number of coronaviruses are able to establish long-term infections in
birds, bats, rodments, and domestic and companion animals.
A study of human seasonal coronaviruses have found diagnosed virus after 30-40;
this indicates persistence or reactivation.

Reactivation of SARS-CoV-2 Infections Follow Recovery from COVID-19 @ sciencedirect.com (05/22)

Of the 109 patients, 27% experienced reactivation, and 24% of these were symptomatic

Antibodies Mimicking the Virus May Explain Long Haul COVID-19, Rare Vaccine Side Effects @ health.ucdavid.edu (05/22)

Approximately one in four COVID-19 patients have lingering symptoms, even after
recovering from the virus

COVID-19 May Hide in Brains and Cause Relapses @ webmd.com (02/22)

The coronavirus may remain in people's brains after infection and trigger relapses
in patients who thought they had recovered
Neuroinvasion of SARS-CoV-2 in Mice @ mdpi.com (02/22)

Onset of severe disease in infected mice correlated with peak viral levels
in the brain

Post-COVID Webinar Series

Covid-19 Long-Haul Symptoms May be Caused by Changes in Genes @ healthline.com (02/22)

Spike proteins on the novel coronavirus may alter gene expressions after they
infect healthy cells
Novel coronavirus can cause long-term gene expression changes in otherwise
healthy cells
SARS-CoV-2 is an RNA virus

Life as a Long Hauler @ technologynetworks.com (02/22)

Some Light on Long COVID @ erictopol.substack.com (08/22)

Levels of cortisol were "uniformly low" among the people with Long Covid
Long Covid individuals have a hypothalamic-pituitary-adrenal axis (HPA) dysfunction
Low cortisol has been noted previously with chronic fatigue syndrome (ME/CFS)

Long COVID @ harvardmagazine.com (08/22)
Symptoms of Omicron

I had mild symptoms, but developed back-breaking pain. When I started taking
D-Ribose powder (along with the PHOS-NaK), my pain levels dropped considerably.
Top of Page Top of Page

COVID-19 Causes Cysts

Cutaneous Lesions and COVID-19 @ onlinelibrary.wiley.com (01/22)

An emerging area, in which there is little information, is the COVID-19-related
cutaneous manifestations
Here, we report the case of a COVID-19 patient with painful cutaneous lesions
on posterior auricular for the first time in the ear
Cutaneous lesions in the form of cystic eruptions appeared on his body
At the time of examination, the auricular lesion was tender and warm, and
without any secretion or itching
We suspect that vesicular lesions can be the less common symptoms after SARS-CoV-2
infection, or they might be late symptoms which could be neglected

What Is It

Epidermoid Cyst @ everydayhealth.com (01/22)

True sebaceous cysts are caused by the glands that secrete the oily matter (sebum) that
helps lubricate your skin and the hair. They are not as common as epidermoid cysts, which
occur when skin cells accrue under the skin instead of being shed from its surface.
Epidermoid Cyst

Dome-shaped cysts can be pea-sized, or grow to a few inches or larger
They grow very slowly, and they're not painful
You should be able to move them around
They often have a central small black dot, or punctum, through which sebum accumulates
The cyst excretes a cheese-like liquid that has a foul smell
Cysts can disappear on their own without treatment

Sebaceous Cysts @ clevelandclinic.org (01/22)

Sebaceous cysts are far less common than other types of similar cysts such as
epidermoid cysts and pilar cysts

Pilar Cyst @ healthline.com (01/22)

How to Remove

How to Remove a Sebaceous Cyst @ wikihow.com (01/22)

Astringent herbs like aloe vera can be used to "pull out" the protein keratin, sebum,
and other fluids in the cyst.
Apply apple cider vinegar to help dry out the cyst; apply it three to four times a day
Cornea Edema

People have developed edema in/around the eyes with COVID. The simple
5% salt (Na Cl) solution is what is recommended; this does help.
Symptoms of Kidney Disease

How to Reverse Kidney Disease

Effects of COVID
Insomnia Information

Birth Control Pills

6 Ways that Oral Contraceptive Pills Disrupts Sleep @ medium.com (03/22)

Altered sleep architecture -- women get less slow wave sleep and more REM sleep;
REM sleep is lighter, and you can be more easily awakened from it
Anxiety -- generated chemicals don't interact with the GABA receptors to decrease
the stress response, and calm the mind and adrenals
Depression -- increase monoamine oxidase which breaks down neurotransmitters
(Serotonin, dopamine, and noraadrenaline; serotonin is used to make melatonin)
Can elevate your body temperature; a cooler core temperature makes you sleepy
Nutrient deficiencies -- B vitamins, zinc, and magnesium
Obstructive sleep apnoea

COVID-19

Supplements for Slow-Wave Sleep

How Nutrition Affects Sleep @ runnersworld.com (03/22)

L-theanine (anxiety-reducing amino acid; works with GABA)
Zinc, Iron, Magnesium
Vitamin D (hormone that increases the amount of melatonin)
Taurine, Carnitine, 5-HTP
Phosphatidyl serine
Magnolia bark extract

Magnolia Bark Affects Sleep @ thesleepdoctor.com (03/22)

Significantly increase slow-wave sleep
Is a GABA booster
Increases GABA activity
People with reduced GABA activity are prone to insomnia and other sleep problems
Activates the endocannabinoid system
Typical dose is 200-400 mg
Possible side effects include shaking hands, thyroid problems, tiredness,
headache, dizziness
Might interact with St. John's Wort

St. John's Wort can cause trouble sleeping, vivid dreams, restlessness;
it has a plasma half-life of 24 hours

L-theanine

Is not naturally produced by the body; found in green tea and mushrooms
Is responsible fore the unique taste known as umani
Induces brainwave paterns similar to those associated with meditation
Is readily able to cross into the brain
Helps to maintain healthy cortisol levels (reducing stress)
Promotes sleep latency; take at least 40 minues prior to going to sleep
200 mg is the recommended dose of L-theanine (for sleep)
L-theanine works better with GABA (GABA @ 20 mg/kg and L-theanine @ 100 mg/kg)
GABA clinical dose is 100 mg

Supplements at Walmart
Taste

Sugars, Sweet Taste Receptors, and Brain Responses @ ncbi.nlm.nih.gov (01/22)

Sweet taste receptors are composed of a heterodimer of Taste 1 Receptor
member 2 (T1R2) and Taste 1 Receptor Member 3 (T1R3).
Four morphologic subtypes of TRCs have been identified.
Type I glial-like cells detect salty taste.
Type II cells express G-protein coupled receptors (GPCRs) to detect
sweet, umami, and bitter tastes.
Type III cells sense sour stimuli.
Type IV cells likely represent stem or progenitor taste cells.
Type II cells do not form traditional synapses with afferent nerve fibers.
Rather, these cells release ATP through hemichannels, which can then activate
purinergic receptors (P2N2 and P2X3) present on the cranial nerve fibers
innervating each taste bud.
Type I cells degrade or absorb neurotransmitters.

Acid Stimulation (Sour Taste) Elicits GABA and Serotonin Release from Mouse Taste Cells
@ journals.plos.org (01/22)

Please notice that ATP is required for a person to taste something "sweet"

Loss of Taste with COVID

When I had the Alpha version of COVID, the loss of taste and smell was the first
symptom I noticed. I lost almost ALL sense of taste. However, my sense of "sweet"
was affected the most.

Taste Loss as a COVID-19 Symptom @ news-medical.net (01/22)

Some studies suggest that increased viral shedding in the saliva is linked to more taste loss
This may indicate direct viral damage to the taste cells
The taste receptors and the supporting cells of the taste buds on the tongue contains a
a viral receptor on the host cell, and the protein required to produce the processed
form of the viral spike
Direct viral effects on the brain can lead to taste alterations
Women notice this effect more than men

How COVID-19 Affects Your Mouth @ webmd.com (01/22)

Folks with COVID can have a reduced sense of taste (hypogueusia); a distorted sense of
taste (dysgeusia); or a total loss of all taste (ageusia)
These complications seemed to be more common among European COVID patients
Some COVID patients also reported lesions on or under their tongue or along the gums
and sides of the mouth

COVID 19-Inducted Smell and Taste Impairments@ frontiersin.org (01/22)

ACE2 is the main entrance receptor for SARS-Cov-2 interacting with its spike proteins
The highest density fo these proteins is in the olfactory eopthelium
ACE2 is mainly expressed in epithelian cells outside of taste papillae which contain
the taste buds
A cytokine storm could make taste bud cells permissive to SARS-CoV-2

Taste Dysfunction and Long COVID-19 @ frontiersin.org (01/22)

Multiple entry receptors makes taste bud cells highly susceptible for SARS-CoV-2
infections
SARS-CoV-2 viral infection and replication has been shown to occur in human
taste bud cells
Direct infection of the taste bud cells and consequent inflammation could affect
taste perception
Inflammation could increase epithelial cell exfoliation and constitute potential
sources of viral RNA in saliva

Genetics Related to Loss of Taste and Smell

The UGT2A1/UGT2A2 Locus is Associated wtih COVID-19-related Loss of Smell or Taste @ nature.com (01/22)

Both genes are expressed in the olfactory epithelium, and play a role in metabolizing
odorants
Loss of sense is smell is called anosmia
Loss of sense of taste is called ageusia
68% of COVID-19-positive people reported a loss of smell or taste as a symptom
Females reported the symptom more than men
The genes relate to uridine diPHOSPHATE glycosyltransferases (enzymes)
These enzymes eliminate the odorants that enter the nasal cavity and bind to
olfactory receptors (detoxification of the receptors)
This results in the clearance of the odorant to facilitate the transient experience
of olfaction
The loss of smell is related to damage to the cilian and olfactory epithelium, but
not infection of the olfactory neurons

Possible Treatments
Vibrations, Tremors -- an Emerging long COVID-19 Symptom for Some Patients @ beckerhospitalreview.com (08/22)

Some physicians who work with long COVID-19 patients are seeing patients with
tremors and vibrating sensations
Dr. Vanichkachorn estimates about 40 to 50 percent of long COVID-19 patients
at Mayo (Minn) experience such symptoms in the first three months after their
initial infection
While health experts aren't exactly sure what causes the post COVID-19 tremors
or vibrating sensations, some suspect it's related to autonomic nervous system
dysfunction (which is common among long COVID-19 patients), nerve damage, or
brain processing issues

COVID-19 on the Brain @ health.ucsd.edu (08/22)

"These are folks who had no neurological problems before COVID-19, and now they
have an incoordination of their body and possible incoordination of their thoughts"

Parkinsonism: An Emerging Post COVID Sequelae @ sciencedirect.com (08/22)

"We report three cases of post COVID parkinsonism occurring in older adults,
age 60 years and above"
Vaccination Side Effects

COVID Arm (Moderma Arm)

Latest Data on 'Moderna Arm' and Bleeding or Clots @ nydailynews.com (02/22)

"Moderma Arm" is a skin reaction which occurs days after the injection
Women have a stronger immune response due to the estrogen in their bodies
About 2% of the time, a skin reaction (rash, swelling, redness, hives) occurs
The "COVID vaccine arm" is a delayed skin reaction in the form of a large rash area
near the site of injection that begins a week or so later

Vaccines

CoronaVac @ wikipedia.org (02/22)

It is an inactivated virus COVID-19 vaccine developed by Sinovac Biotech
The two-dose vaccine has an efficacy rate of 50% for preventing symptomatic infection
(Brazilian trial)
Common side effects are fatigue, diarrhea, and muscle pain
A third dose is suggested
Sinovac Biotech @ wikipedia.org (02/22)
ATP is used all over your body in thousands of chemical processes.

COVID-19 (original, Alpha, Delta, or Omicron) affects the amount of ATP in your body.

Many of the side effects of COVID (loss of taste, brain fog, muscle aches,
loss of hair, etc) can be directly related to low phosphorus or ribose
(which are used to make ATP).

You can reduce/eliminate your symptoms of "long-haul" COVID by increasing your
levels of ATP. That is done by taking the precursors of ATP (namely, phosphorus
and ribose). Other things (like minerals) are also important.

In many cases, the "length" of your "long-haul" symptoms is directly related to
your diet (your intake of phosphorus, ribose, minerals, etc).

Many people experience muscle loss/weakness and often look 10 years older after
contracting a case of COVID (even a mild case). Muscle loss is often considered to be
a normal part of "aging". This can be reversed by an intake of HMB and Vitamin D3.

The last section of this webpage lists a few places which sell the supplements
mentioned in this webpage. I just googled the items, and listed some of the best prices.
D-Ribose Powder

Phosphorus Supplements

GeriCare Phosphorus Supplement

GeriCare Phosphorus Supplement @ amazon.com (100 1.5 g packets; $35.79; unavailable) (01/22)

Potassium Phosphate Monobasic, Potassium Phosphate Dibasic,
Sodium Phosphate Monobasic, Sodium Phosphate Dibasic, Mannitol, Citric Acid,
Natural & Artificial Strawberry Flavor, Sucralose and Silicon Dioxide
It contains 280 mg potassium, 160 mg sodium, and 250 mg phosphorus
Compare to the dietary ingredients in Phos-Nak
This is taken to prevent kidney stones; it acts as a uninary acidifier
It may be used as a mineral supplement to treat other conditions

Cypress Pharmaceutical PHOS-NaK

Rugby Na K Phosphorus

Vitamin B4 - Adenine

NaCl Eye Drops

HMB Powder and Capsules

L-Leucine

Aloe Vera

Bonnie's Links
created by Bonnie Lee Hill,

bonniehill@verizon.net

last modified on January 15, 2023


URL: http://www.bonniehill.net/pages/covid.html