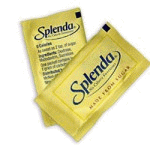 Low Carb Sweeteners


A Controlled Trial Contrasting the Effects of 4 Low-calorie Sweeteners and Sucrose on Body Weight @ nih.gov (08/22)

Sucrose, aspartame, saccharin, sucralose, and rebaudioside A were tested
Sucrose and saccharin consumption led to increased body weight
There was no significant change in body weight with consumption of the other LCS
Sucralose caused a loss in body weight
Energy intake decreased with sucralose consumption
Ingestive frequency was lower for sucralose than for saccharin

Hidden Carb Calculator @ lowcarb.ca (01/19)

What Are Sugar Alcohols? @ verywellfit.com (01/19)

Comparison of Sugar and Sugar Alcohols


| | | | |
| --- | --- | --- | --- |
| Ingredient | Sweetness | GI | Cal/g |
| Sucrose(sugar) | 100% | 60 | 4 |
| Maltitol Syrup | 75% | 52 | 3 |
| Hydrogenated Starch Hydrolysate | 33% | 39 | 2.8 |
| Maltitol | 75% | 36 | 2.7 |
| Xylitol | 100% | 13 | 2.5 |
| Isomalt | 55% | 9 | 2.1 |
| Sorbitol | 60% | 9 | 2.5 |
| Lactitol | 35% | 6 | 2 |
| Mannitol | 60% | 0 | 1.5 |
| Erythritol | 70% | 0 | 0.2 |

Absorption of sugar alcohols from the human small intestine, and energy values
(HSH = hydrogenated starch hydrolysate)

| | | |
| --- | --- | --- |
| Compound | % Absorbed | Energy (kcal/gm) |
| D-tagalose | - | 1.5 |
| Erythritol | - | 0.2 |
| HSH | - | 3.0 or 3.2 |
| Inulin | - | 1.6 |
| Isomalt | 50-60% | 2.0 |
| Lactitol | 0% | 2.0 |
| Maltitol | 50-75% | 2.1 or 3.0 |
| Mannitol | 50% | 1.6 |
| Oligosaccharides | - | 1.6 |
| Polydextrose | - | 1.1 |
| Resistant Starch | - | 3.0 |
| Trehalose | - | 4.0 |
| Sorbitol | 50-79% | 2.6 |
| Xylitol | 50% | 2.4 or 3.0 |

Glycemic Index (per 2 tsp of sugar)

| | | | |
| --- | --- | --- | --- |
| 0 | Inulin | 48-53 | Maltinol syrup |
| 0 | SteviaPlus | 54 | Maple Syrup |
| 0 | Erythritol | 55 | Blackstrap Molasses |
| 0 | Mannitol | 59 | Table Sugar |
| 5 | Polydextrose | 62 | Honey (32-87) |
| 6 | Lactitol | 68 | White Sugar |
| 7-13 | Xylitol | 70 | Sugar |
| 9 | Isomalt | 80 | Splenda packets (original) |
| 9 | Sorbitol | 80 | Equal packets |
| 15 | Agave Nectar (11-19) | 80 | Sweet'N Low packets |
| 19 | Fructose (12-25) | 80 | Most Stevia brands |
| 36 | Maltinol | 100 | Dextrose |
| 39 | HSH | 100 | High Fructose Corn Syrup |
| 42 | Barley Malt Syrup | 100 | Glucose (85-111) |
| 46 | Lactose | 105 | Maltodextrin |

Net Carbs (Maltitol) (01/19)

Sugar Alcohols @ diabetes.ca (PDF)

Absorption of sugar alcohols from the human small intestine, and energy values
(HSH = hydrogenated starch hydrolysate)
Plasma glucose control

Sorbitol, lactitol and xylitol does not raise plasma glucose
In normal people, chocolate sweetened with maltitol elicited
the same plasma glucose response as chocolate sweetened with sucrose

Agave Nectar (Syrup)

Chart from IDFA Meeting in 2005


Xylitol 100% 2.4 - - - - - - - - - - 2.2

"Bulking Agends and Fat Substitutes" (book)

Removal of conventional sweeteners from ice cream increases the freezing point
Xylitol will produce a softer product at the same temperature
Carrageenan or guar will replace either fat or sucrose in frozen dairy desserts
Polydextrose

Can replace sugar or fat
Will depress the freezing point
Will contribute creaminess and smoothness to the mouthfeel
Aids in the dispersion of cocoa and starch

Gelatin was used in the ice cream industry as a stabilizer, but has been replaced by
polysaccharides to reduce the cost. Gelatin forms a weak gel that melts readily in the mouth
giving no impression of gumminess.
Guar gum dissolves readily in cold water. It produces highly viscous and thisotropic mixes
at low concentrations (within about 2 hours).
Locust (carob) bean gum needs a high temperture to fully disperse and hydrate
Xanthan gum is used in salad dressings, but not used frequently in ice cream
Egg or egg yolk was used as an emulsifier

Ice Cream Dream, Ingredients & Additives

Erythritol

Produces a high degree of freezing-point depression
Has a high laxation threshold
A 3.5% erythritol solution will cause the same freezing-point depression as a
10% sucrose solution.

Glycerine

Strong freezing-point depression effect
Has a laxative effect
Potential to alter the flavor of the ice cream

Pinch (cooking) @ wikipedia.org (01/19)

Dash = 1/8 teaspoon
Pinch = 1/16 teaspoon
Smidgen = 1/32 teaspoon
Historically, the "pinch" was defined as 1/8 teaspoon in some cookbooks

Sources for measuring spoons

Converting liquid measurements to drops

Ace K is 200 times sweeter than sugar

(1 1/2 tbsp Ace K powder * 200 sugar/Ace K) / (4 tbsp water * 3 tsp/tbsp * 76 drops/tsp)
= 0.33 tbsp sugar / 1 drop solution
= 1 tsp sugar / 1 drop solution
OR
(3 tbsp Ace K powder * 200 sugar/Ace K) / (4 tbsp water * 3 tsp/tbsp * 76 drops/tsp)
= 0.65 tbsp sugar / 1 drop solution
= 2 tsp sugar / 1 drop solution
OR
For a weaker solution

(1.125 tsp Ace K powder * 200 sugar/Ace K) / (2 tbsp water * 3 tsp/tbsp * 76 drops/tsp)
= 1/2 tsp sugar / 1 drop solution
OR
(2.25 tsp Ace K powder * 200 sugar/Ace K) / (4 tbsp water * 3 tsp/tbsp * 76 drops/tsp)
= 1/2 tsp sugar / 1 drop solution

IF Stevia is 300 times sweeter than sugar

(1 tbsp stevia powder * 300 sugar/stevia) / (4 tbsp water * 3 tsp/tbsp * 76 drops/tsp)
= 0.33 tbsp sugar / 1 drop solution
= 1 tsp sugar / 1 drop solution
OR
(2 tbsp stevia powder * 300 sugar/stevia) / (4 tbsp water * 3 tsp/tbsp * 76 drops/tsp)
= 0.65 tbsp sugar / 1 drop solution
= 2 tsp sugar / 1 drop solution

Sucralose is 600 times sweeter than sugar (Splenda packet is equivalent to 2 tsp sugar)

(1/2 tbsp sucralose powder * 600 sugar/sucralose) / (4 tbsp water * 3 tsp/tbsp * 76 drops/tsp)
= 0.33 tbsp sugar / 1 drop solution
= 1 tsp sugar / 1 drop solution
OR
For a "standard" solution (1 drop is equal to 1 Splenda packet)
(1 tbsp sucralose powder * 600 sugar/sucralose) / (4 tbsp water * 3 tsp/tbsp * 76 drops/tsp)
= 0.65 tbsp sugar / 1 drop solution
= 2 tsp sugar / 1 drop solution

Assumptions to be used in the calculations

Erythritol crystals are 70% as sweet as sugar
Erythritol powder is 35% as sweet as sugar, and has twice the volume as the Erythritol crystals
Ace K is 200 times sweeter than sugar
NOW Foods Better Stevia is 24 times sweeter than sugar (not 200 or 300 as normally assumed for stevia)
Sucralose powder is 600 times sweeter than sugar

Using only NOW Foods Better Stevia

NOW Foods BetterStevia Sweetener Equivalency Chart (01/19)

1 tsp Better Stevia = 1/2 cup sugar (only 24 times sweeter than sugar)
2 tsp Better Stevia = 1 cup sugar

Notes

Actual usage in cooking can be quite different
Cooking rule: 1 tsp stevia powder = 32 tsp sugar = 2/3 cup sugar
In making Kool-Aid gummies, use 1 tsp NOW Foods Better Stevia powder to replace 1 cup sugar

1 cup of sugar = 2 tsp NOW Foods Better Stevia (only 24 times sweeter)

A Cup of "Truvia" (Erythritol Crystals and NOW Foods Better Stevia)

1 cup sugar = (1 cup erythritol) + (5/8 tsp stevia)
1 cup sugar = (1 cup E crystals * 0.70)*(48 tsp/1 cup) + (5/8 tsp stevia * 24)
1 cup sugar = (33.6 tsp from E crystals) + (15.0 tsp from stevia)
1 cup sugar = 48.6 tsp sweetness

A Cup of "bulk Splenda" (Erythritol Crystals and Sucralose)

1 cup "Splenda" = (1 cup erythritol) + (1/32 tsp sucralose)
1 cup "Splenda" = (1 cup E crystals * 0.70)*(48 tsp/1 cup) + (1/32 tsp sucralose * 600)
1 cup "Splenda" = (33.6 tsp from E crystals) + (18.75 tsp from sucralose)
1 cup "Splenda" = 52.35 tsp sweetness = 1.09 cups sweetness

Erythritol, Stevia, and Sucralose

sweetness = 1 cup erythritol + 1 tsp stevia powder + 1/16 tsp sucralose powder
sweetness = (1 cup E crystals * 0.70)*(48 tsp/cup) + (1 tsp stevia * 24) + (1/16 tsp sucralose * 600)
sweetness = (33.6 tsp from E crystals) + (24.0 tsp from stevia) + (37.5 tsp from sucralose)
sweetness = 95.1 tsp = 2 cups of sweetness in 1 cup of volume
Therefore, 1 tsp of the mixture = sweetness of 2 tsp of sugar

Erythritol, Ace K, and Sucralose

sweetness = (1 cup erythritol) + (1/8 tsp Ace K) + (1/16 tsp sucralose)
sweetness = (1 cup E crystals * 0.70)*(48 tsp/cup) + (1/8 tsp Ace K * 200) + (1/16 tsp sucralose * 600)
sweetness = (33.6 tsp from E crystals) + (25.0 tsp from Ace K) + (37.5 tsp from sucralose)
sweetness = 96.1 tsp sweetness
Therefore, 1 tsp of the mixture = 2 tsp of sugar

Erythritol, Ace K, Stevia, and Sucralose

sweetness = 1 cup erythritol + 1/16 tsp Ace K + 1/2 tsp stevia + 1/16 tsp sucralose powder
sweetness = (1 cup E crystals * 0.70)*(48 tsp/cup) + (1/16 tsp Ace K * 200) + (1/2 tsp stevia * 24) + (1/16 tsp sucralose * 600)
sweetness = (33.6 tsp from E crystals) + (12.5 tsp from Ace K) + (12.0 tsp from stevia) + (37.5 tsp from sucralose)
sweetness = 95.6 tsp = 2 cups of sweetness in 1 cup of volume
Therefore, 1 tsp of the mixture = sweetness of 2 tsp of sugar
To prevent a bitter aftertaste, Ace K should not contribute more than 15-20% of the overall sweetness
In this "recipe", Ace K contributes 13% of the overall sweetness, and only 33% of that provided by the sucralose

Highly Concentrated Set of Sweeteners

sweetness = 6 tsp erythritol + 1/32 tsp Ace K + 3/8 tsp stevia + 1/32 tsp sucralose powder
sweetness = (6 tsp E crystals * 0.70) + (1/32 tsp Ace K * 200) + (3/8 tsp stevia * 24) + (1/32 tsp sucralose * 600)
sweetness = (4.2 tsp from E crystals) + (6.25 tsp from Ace K) + (9.0 tsp from stevia) + (18.75 tsp from sucralose)
sweetness = 38.2 tsp sweetness in 6.4375 tsp of volume
Therefore, 1 tsp of the mixture = 5.93 tsp of sugar = 2 tbsp of sugar
If we ground the mixture, 1 tsp of the powder = 1 tbsp of sugar

Results of tests made with "liquid" sweeteners

In a small amount of water:

1 drop of liquid sucralose = 2 tsp sugar
1 drop of liquid Ace K = 1/2 tsp sugar
I used 1 drop of each solution; the flavor was good and there wasn't any bitter
aftertaste
In this test, the Ace K contributes 20% of the sweetening effect

Ace K and Splenda @ forum.lowcarber.org (01/19)

It works best when no more than about 15% of the sweetening equivalent is ace k,
and the rest Splenda

Baking with Erythritol and Stevia @ lowcarbfriends.com

I use 1/4 to 1/3 of the amount of erythritol called for
Then add 1 tbsp blackstap molasses and enough stevia to make the batter TOO sweet
Making the batter TOO sweet is the key to working with stevia
Since stevia breaks down somewhat under heat, a "too sweet" batter yields a "just right" cookie
Products like not/Sugar, not/Starch, other gums, polyD retard the recrystallization
and help eliminate the cooling effect of erythritol
To retard the cooling effects of erythritol, add "Not Sugar" in the following ratios

1:8 (2 tbsp per cup of powdered erythritol)
1:4 (4 tbsp per cup of granular erythritol)

Diluting Pure Sucralose @ lowcarbfriends.com

To make substitute for 1 cup sugar:
1 Cup Erythritol
1/8 teaspoon Stevia
1/16 teaspoon powdered Sucalose

"Optimising Sweet Taste in Foods" @ books.google.com (01/19)

Xylitol has significant sweetness synergism with other polyols
Erythritol to Ace K blends of 85-15, 95-5, and 99-1 ratios were significantly sweeter
than the expected sweetness
Polyols were found compatible with Ace K
Ace K to xylitol blend of 1 to 100 was a good combination

Post-Synergy Sugar Replacement (for 1 cup sugar) @ lowcarbfriends.com

Liquid Splenda to replace 1/2 cup sugar
1/4 cup Erythritol
1 pkt (2 tsp) Sweet One (Ace K)

Donna's Shuga~Blend @ lowcarbfriends.com

2 lb. Xylitol (made from hardwood, NOT corn cobs-google to find it)
4 lb. Erythritol (Eridex granular from Honeyville Grain)
4 lb. Diabetisweet (regular NOT brown)
4 TB LoHan Sweet (by Jarrow Formulas) -OR- SlimSweet (by TriMedica)
2 TB Stevia+ (by Wisdom Herbs)

Help for Cookies @ lowcarbfriends.com

When you add glycerin, the cooling effect of Erythritol is not as noticeable
Gum blends can also offset the cooling effects of Erythritol

Post-Synergy Sugar Replacement (for 1 cup sugar) @ lowcarbfriends.com

Liquid Splenda to replace 1/2 cup sugar (or 1/2 cup granular Splenda)
1/4 cup Erythritol
1 pkt (2 tsp) Sweet One (Ace K)

Replicating Shurgr @ lowcarbfriends.com (good information)

For 1 cup sugar, use:
1/3 cup splenda equivalent
1/3 cup erythritol
1 packet Sweet One Ace K (2 tsp equivalent)
2/3 cup polyd

Splenda and Baking @ lowcarbfriends.com

Try 3/4 Splenda to 1/4 erythritol

Sweetener Conversion Calculator @ drjacobkeyzernd.com

1 cup sugar = 1/8 cup stevia concentrate = 2 tbsp
2 cup sugar = 3/8 cup stevia concentrate = 6 tbsp

Sweetener Synergy @ lowcarbfriends.com

For 1 Cup Sugar equivalent:
1/2 cup + 2 tbsp Splenda equivalent (liquid or granular)
1 packet Stevia Plus (filler is inulin)
1 packet Sweet One Ace K (contains dextrose, cream of tartar, and natural flavors)

FiberSol-2 (aka Clearly Fiber)

Dextrin and Maltodextrin

Dextrin @ wikipedia.org (01/19)

Maltodextrin is a polysaccharide that is used as a food additive. It is produced from
starch. Maltodextrin is easily digestible, being absorbed as rapidly as glucose, and
might either be moderately sweet or might have hardly any flavor at all.

Agave Nectar, the high Fructose health Food Fraud @ naturalnews.com

Maltodextrin is a by-product of the production of High Fructose Corn Syrup.
Refined maltodextrin is converted to blood glucose even faster than refined sucrose.
"Many people think that adult-onset diabetes and cardiovascular disease are natural
diseases of aging; we believe they are natural diseases of poor nutrition."

Soluable Corn Fiber and Resistance Starch

The Glycemic Response of soluable corn fiber is approximately 1/3 that of readily digestible
carbohydrates such as dextrose or maltodextrin.
The Glycemic Response of resistant starch is approximately 10% that of readily digestible
carbohydrates such as dextrose or maltodextrin.



New Information

Old Information

Erythritol @ wikipedia.org (01/19)

It does not affect blood sugar
It has a caloric value of 0.2 calories/gram (95% less than sugar)
It is absorbed in the small intestine, and excreted unchanged in the urine

Erythritol is stable to 320 deg F

Crystals vs Powdered Erythritol

Crystals vs Powdered @ lowcarbfriends.com

You need a little less than twice as much powdered as crystal (by volume, same weight)

Difference Between Granular and Powdered Erythritol @ lowcarbfriends.com

The general math when subbing granular erythritol is measure for measure it is 70%
as sweet as sugar
If you are subbing powered erythritol it drops to 35% to 40% as sweet as sugar

Making You Own Powdered Erythritol @ lowcarbfriends.com

I buy granular and powder my own
It doesn't measure the same, so you have to see what your grinder does
Mine changes 1/4 cup granular to 1/3 cup powdered

Powdered Erythritol vs Granulated @ lowcarbfriends.com

Using granular E for cooking or making candy seems to recrystallize, and you will
have crunchy bits in your candy or fudge
Grandular E is good for texture if you need it or if diluting in liquids
Grandular E also works fine in baked good like cookies that have a more cake-like texture
If you powder it in bullet blender or grinder, you can use it to make frosting or a
smoother chocolate candy

Melting Erythritol in the Microwave @ lowcarbfriends.com

You can melt it first, either in the microwave or on the stovetop; it takes only a
few minutes either way
I use it this way in all my candy/protein bar recipes and in some baked goods if I
am looking for a particular texture
Powder the Erythritol
Add coconut oil and powdered E to a pan, and melt on the stovetop or microwave

Recipes Using Erythritol

How to Use Xylitol and Erythritol in Baking @ justapinch.com (01/19)

Xylitol and Erythritol don't caramelize when used in baking so your baked goods may
feel dryer then normal
Add more liquid, lecithin, butter/margarine or even xanthan gum to the recipe to
maintain moisture
Sift the xanthan gum with the xylitol or erythritol prior to adding them to the
liquid ingredients
Solid chocolates and some recipes that are exposed to the air for long periods of
time (jams and jellies) will show signs of recrystallizing
Replacement for powdered sugar

Grind the erythritol in a coffee grinder or blender
Add 2 tbsp of starch (cornstarch or arrowroot starch) to 1 cup of powdered sweetener
Add a pinch of guar gum
Blend everything together

Frosting: 2 parts by weight of powder to 1 part shortening or butter
Substitute for 1 cup of brown sugar: 1/4 cup molasses and 3/4 cup erythritol

Erythritol Hard Candy @ lowcarbfriends.com

I was trying to develop a thick erythritol-based liquid that I could use as a
substitute for honey.
The really tough part is being able to do it without the very strong crystallization
of erythritol getting in the way.
Although I didn't have much luck with the honey, I did stumble onto some killer hard
candy.
I brought and kept a ratio of 3:1 erythritol to water to a slow boil in a non-stick
pan for approx 5 minutes.
At that point I added 1/2 tsp of LorAnn's peanut butter favor oil and let the motion
of the low boil incorporate the flavor thru-out for another 5 minutes.
The temperature at this point was 300 degrees and I removed it from the heat.
I then poured the ultra hot liquid into cooking oil sprayed mini-muffin pan.
What I ended up with was a very smooth, very hard, non-gritty piece of peanut butter
candy, with no cooling effect.
When it had boiled down, what was left filled up 12 mini muffins.
- - -
My mother used to make awesome hard candy.
She would oil an 8" x 8" pan, and pour the cooked to temp candy into it.
As it cooled, she used a metal spatula to score it; she did this several times.
When cool, she could just tap it on the counter and it would break in to neat 'pillows'.
I wonder if you could do this with your cooked candy to make smaller pieces?
- - -
My sister used to make candy for the holidays.
She would pour the hot mixture on a cookie sheet.
When it had cooled, she would break it up with a hammer.
Then she dusted the pieces with powdered sugar lightly to prevent sticking.
- - -
When you were talking about retarding the crystalization, I thought about cream of tarter.
Someone mentioned that it is reputed to have the same anti-crystalization properties
in candies as corn syrup does now.
The person only used a small amount, say 1/8 tsp, in a recipe.
I would also suggest some gum in it, probably guar.
- - -
You might want to try Xylitol in lieu of erythritol.
They use xanthan gum as a thickener in their honey.
I suggested guar because it thickens less per volume, and the gum volume might be
needed to keep the erythritol from crystalizing.
The Xylitol might be less finnicky.

Licorice Goo Drops @ dardreams.wordpress.com (01/19)

Ingredients

1 tablespoon Fiberfit Liquid
1/8 teaspoon anise extract
1/4 cup water
2 teaspoons granular erythritol
1 tablespoon glucomannan powder
Extra granular erythritol

Instructions

Lightly grease a silicone candy mold or mat. Set aside.
In a small bowl, whisk together Fiberfit, anise extract, water, and 2 teaspoons erythritol.
Whisk in glucomannan powder just until starting to thicken. (Don't overwhisk or it
will set up too quickly.)
Press mixture into molds or shape into small balls on silicone mat.
Let sit at room temp for 1/2 hour.
Sprinkle extra granular erythritol onto a saucer or plate.
Remove the goo drops from the molds, and roll or press each one into the erythritol
to cover all sides.

Information

Nutritional Information

Glycerol @ sugar-and-sweetener-guide.com (01/19)

Adds texture and bulk
Can assist in creating a chewy feel, and in the retention of moisture
Is harmless to teeth and "suitable for diabetics"
Has a very low glycemic index -- only 5
Can be used to lower freezing points

Candida-Safe Sweeteners @ forums.prohealth.com (01/19)

Glycerin is about 1 1/2 times sweeter than sugar
Glycerin has a very faint taste, and gives a slight warming sensation on the tongue
In baking, glycerin makes things brown faster

Gambling with Glycerine -- Carbohydrate or Not @ biologicnr.com (01/19)

Glycerine bolsters the moisture content of a nutritional bar and contributes to
its sweetness
Glycerine will become a factor in the carbohydrate load of your body
Glycerine has a calorie potential almost 20% greater than a carbohydrate — 4.57
versus 3.87 calories per gram, respectively
Glycerine is a reasonable sweetener to employ if you want to hide the carbohydrate
level of a protein powder

Is Glycerin a Healthy Sweetener @ quickanddirtytips.com (01/19)

Is a "polyol", like erythritol
Has moisture-attracting properties (keeps food moist)
Can produce a laxative effect

Glycerol @ wikipedia.org (01/19)

Melting point: 64.0 deg F; boiling point: 554 deg F
Serves as a humectant, solvent, sweetener, and may help to preserve foods
Used as a filler in low-fat foods (cookies)
Acts as a thickening agent in liqueurs
Is added to icing (frosting) to prevent it setting too hard
When used in candy-making, it can add a subtle sweetness, keep candy soft, and help
improve the texture
Add 1 tsp to prevent a cake from being dry
Maintains water content in baked goods, candy and fudge and is a natural part of fat
molecules

Glycerin @ wholisticresearch.com

One tablespoon of vegetable glycerine is equivalent to about 1/4 cup of sugar
I found out that it is best to use glycerin in your baking as it is also a raising agent

Market Tricks: Beware of Net Carbs @ phlaunt.com (01/19)

Sugar alcohols (maltitol, sorbitol, glycerin) can be metabolized as carbohydrates
All sugar alcohols save Erythritol can have a very significant impact on blood sugar
Only two sugar alcohols have a GI of zero, according to Livesey's research --
Effects of glycerin

When liver glycogen is full, glycerol is converted to fat
When liver glycogen is empty, glycerol is converted to glucose
And sometimes it just goes right through without doing anything

"Resistant" starch is a misleading label

Recipes Using Glycerin

Breads

Condiments

Desserts

Carob Fudge @ feastie.com

1/2 cup (120 ml) carob powder, sifted
1/4 cup (60 ml) coconut oil (use refined if you don't want the coconut flavor)
2 Tbsp (30 ml) sesame tahini
3 Tbsp (45 ml) smooth natural almond butter
pinch fine sea salt
1 tsp (5 ml) pure vanilla extract
10-20 drops plain or vanilla liquid stevia
2 Tbsp (30 ml) vegetable glycerin (food grade only!)

Sugar-Free Marshmallows @ dessertswithbenefits.com (can burn the mouth) (01/19)

Marshmallows:

1 cup Vegetable Glycerine
1 tsp Vanilla Bean Paste (you can use homemade!)
1 tsp Stevia Extract
1/4 tsp Salt
2 packets Unflavored Knox Gelatin
6 tbsp Water

Marshmallow Coating:

1/3 cup Corn Starch (preferably non-GMO)
1/3 cup Powdered Erythritol

Sugar-Free Marshmallows @ wholenewmom.com (01/19)

2 tablespoons gelatin
1/2 cup cold water
1 1/2 cup of xylitol (or other sweetener per your dietary needs)
1/2 cup hot water
1/2 cup liquid sweetener (I used vegetable glycerine)
2 teaspoons vanilla extract

Homemade Ice Cream

Ice Cream Recipes @ lowcarbfriends.com

2 cups Heavy Cream (13.2 carbs)
1 cup Liquid Stevia, DaVinci, Atkins, or Torani Sugar Free Syrup, choice of many
flavors (0 carbs)
2 cups Sugar equivalent sweetener (1/2 tsp liquid Splenda or Stevia is 0 carbs)
2 tbsp Vegetable Glycerine (0 carbs)
3 tbsp Lecithin Granules (1.5 carbs) [or 3 egg yolks for a custard mix]
1/4 tsp Xanthan Gum (0 carbs)
1/8 tsp Salt (0 carbs)

Protein Bars

Best Protein Bars @ steviasmart.com

Chocolate Bars

1 cup oat flour
1 cup Milk & Egg Protein powder (MLO)
1/2 cup powdered milk
1/2 teaspoon pure stevioside extract
1/2 teaspoon salt
2 ounces unsweetened bakers chocolate
2 tablespoons butter
8 ounces fat free cream cheese (room temperature)
1/2 cup glycerin
1 teaspoon super-strength chocolate flavoring (LorAnn)

Coconut Protein Bars

1/2 cup plus 2 tablespoons water
1/4 cup Stevita Stevia Supreme, or 1/4 cup Stevia blend, or 3/4 teaspoon pure stevia (stevioside)
1/3 cup glycerin
2 tablespoons coconut oil
1 1/2 cups isolated soy protein powder
3/4 cup Milk & Egg Protein powder (MLO)
1/2 cup unsweetened shredded coconut (dried, NOT fresh)
1/2 teaspoon coconut super-strength flavoring (LorAnn)
1/2 teaspoon pineapple super-strength flavoring (LorAnn)

Nutrtion Bars @ livestrong.com (01/19)

Combine cereal or granola and whey protein in a mixer bowl
Add butter and vegetable oil to the bowl, followed by glycerin and water
Roll out the mixture to 3/8 inch, and cut into pieces
Bake at 400 F for 10 minutes


Inulin

Nutritional Facts @ netrition.com (01/19)

1 tsp has 5 calories
1 tsp has 2.50 carbs, 2.25 grams dietary fiber, and 0.25 net carbs
Inulin has 1.6 calories/gram

Inulin in cooking

Inulin in Baking @ leaf.tv (01/19)

Inulin is used to increase fiber content in food
Inulin has a slight sweet taste
Fibersure has been altered to remove the sweet taste

Inulin in Recipes @ lowcarbfriends.com

Fibersure is hydrolized inulin, so it does not thicken
Benefiber is hydrolized guar gum, so it doesn't thicken

Inulin: The In Fiber (01/19)

In the large intestine, inulin is broken down by beneficial bacterial through
fermentation to yield short chain fatty acids
Carbohydrates such as inulin are considered "prebiotics"
A prebiotic is a nondigestible carbohydrate that stimulates the growth of beneficial
bacteria naturally residing in the colon
These helpful bacteria are referred to as probiotics

Inulin Fiber @ raysahelian.com (01/19)

Journal of Nutrition

Sources of Inulin (1 gram = 0.0352739619 ounces)

NOW Inulin

Other Brands

Clear & Natural (also known as Fibersure) by Metamucil is 100% Inulin

Oliogofructose (FOS)

FOS @ wikipedia.org (01/19)

FOS is produced by the degradation of inulin or polyfructose
FOS are more soluble than inulin, and are added to dairy products
Jerusalem artichoke and Yacon have the highest concentration of FOS
FOS and Inulin promote calcium absorption in the human gut

Oligoftructose @ beneo.com (01/19)

Orafti Oligofructose consists of oliogofructose and the natural sugars glucose,
fructose, and sucrose in varying combinations (Orafti 60 contains 40% sugars)
It is a mixture of oligosaccharides which are composed of fructose units connected
by Beta (2-1) links; some of these molecules are terminated by a glucose unit
Degree of Polymerization mainly ranges between 2 and 8
It is a natural sugar replacer
It is more soluble than sucrose; it does not crystalize

Polydextrose (Litesse)

Polydextrose @ wikipedia.org (01/19)

It is a soluble fiber than is used to replace sugar, and reduce calories and fat
It is synthesized from dextrose, sorbitol and citric acid
It replaces sugar and fat in cakes, candies, frozen desserts, puddings, and
salad dressings
It is a humectant, stabilizer, and thickening agent
In the US, it is known by the brand names Litesse, Sta-Lite, and Trimcal

Dietary Fibber @ slate.com (01/19)

Polydextrose, inulin, and maltodextrin are classified as dietary fiber in the US

Polyfunctinal Polydextrose @ foodproductdesign.com

It can replace fat and sugar
Works well in soft cookies
Has a low glycemic response (4-7), compared to glucose's 100
Has a clean flavor and a neutral taste
Has a freezing-point depression similar to sugar
Will not crystalize in candy

Polydextrose for Adding Fiber (01/19)

It has a glycemic index of about 5
Its freezing-point depression is 0.6

Sources

Yacon Syrup


General Information

Sources

Bulk Monk Fruit (Monk Fruit & Erythritol)

Liquid Monk Fruit

Monk Fruit Extract Powder

Recipes

Use Monk Drops

Use Sugar-Equivalent Monk Sweetener

Use Various Forms of Monk Fruit

General Information

High levels of fat in the blood affect the body's ability to clear sugar from
the blood as well

D-Ribose Induces Nephropathy @ nih.gov (09/22)

Recently, aberrantly high levels of d-ribose have been discovered in type II
diabetic patients
D-ribose glycates proteins more rapidly than d-glucose, resulting in the
production of advanced glycation end products (AGEs)
Accumulations of these products can be found in impaired renal function
In vivo, administration of d-ribose was found to lower blood glucose and
regulate insulin tolerance
Compared to controls, urine nitrogen and creatinine excretion were increased
in mice receiving d-ribose and were accompanied by severe pathological renal damage
In 1970, d-ribose was found to be an energy enhancer that decreases blood glucose
In its role as a sugar moiety of adenosine triphosphate (ATP), d-ribose is widely
used as a metabolic therapy supplement for chronic fatigue syndrome or cardiac
energy metabolism

D-Ribose: Potential Clinical Applications and its Complications @ nih.gov (09/22)

Until 1970, D-ribose had only been known to serve as a means of increasing
blood sugar levels in states of low energy
D-ribose may also reduce the plasma urea nitrogen content and the decomposition
rate of proteins by increasing liver glycogen reserves
D-ribose cannot be used to counter liver glycogen shortages
D-ribose was able to control blood sugar levels by modulating the sensitivity
to insulin in mice
D-ribose causes an increase in insulin secretion, resulting in an increase in
oxidative decomposition of sugars and a decrease in blood glucose levels
D-ribose rapidly improved glucose tolerance
D-ribose may also enhance serum protein glycosylation to produce glycated serum
protein (GSP), leading to a series of complications of chronic diabetes
D-ribose may lead to the formation of advanced glycation end products (AGE) and
complications of chronic diabetes
Although D-ribose may lower blood sugar levels over a short period of time, it
may also trigger complications of chronic diabetes following long-term accumulation
High D-ribose concentrations are associated with chronic diabetic complications
D-ribose is a double-edged sword in the management of diabetes
Urine concentration of D-ribose in patients with type 2 diabetes was substantially
higher than that of normal individuals, which also indicated high levels of D-ribose
in the body of patients with diabetes
The concentration of D-ribose in patients with diabetes is proportional to the
incidence and severity of diabetic complications
Reducing D-ribose intake in everyday life in patients with diabetes may be of
direct significance

Ribose: Heart, Muscle and Energy Food @ coryholly.com (09/22)

Ribose is synthesized from glucose, and can also be used to make glucose
At high doses (60 grams/day), diarrhea and a slight decrease in blood glucose may occur

The Pathway of Ribose Carbon Conversion to Glucose in Man @ nih.gov (PDF) (09/22)

In man the pentose phsophate pathway mediates the inverconversion of ribose and glucose
The fraction of ribose carbon which was converted to blood glucose within 15 minutes
of ribose administration was a minimum of 16%

Glycolysis and Gluconeogenesis @ amboss.com (09/22)

In gluconeogenesis glucose is synthesized from noncarbohydrate precursors such as
glucogenic amino acids (mainly alanine and glutamine), odd-chain fatty acids, glycerol,
pyruvate, and lactate
All amino acids, except for leucine and lysine, can be used as substrates for
gluconeogenesis
Gluconeogenesis occurs almost exclusively in the liver
Fructose 1,6-bisphosphatase is the rate-limiting enzyme for gluconeogenesis
The metabolism of glucose is mainly controlled by hormones such as insulin (which
stimulates glycolysis) and glucagon (which stimulates gluconeogenesis)
Sites of gluconeogenesis

Primarily carried out in the liver
Renal cortex
Intestinal epithelium

D-Ribose & Alzheimer's Disease

D-Ribose & Heart Disease

D-Ribose & Fibromyalgia

D-Ribose @ globalsweet.com

Ribose is a naturally occurring sugar that helps to generate and recover ATP levels
(adenosine triphosphate (ATP) is the body's primary energy carrying molecule).
ATP keeps your heart beating, muscles contracting and cells functioning. High levels
of cellular energy are required to keep tissues running at peak performance.
Reports have also shown that Ribose can lower blood sugar levels.
There is no known reason for people developing Fibromyalgia. However we do know that
people who have this condition also have low ATP levels and a reduced capacity to produce
ATP in their muscles. Ribose fuels ATP synthesis which reduces muscle pain and enhances
the quality of life for those suffering with fibromyalgia and/or chronic fatigue.

DoctorMyhill.co.uk (01/19)

Using D-Ribose in cooking

Forum @ jackkruse.com (01/19)

People use ribose in non-baking dishes
People make candy using chocolate, coconut oil, and ribose
People have baked cakes with it, and they were wonderful
Powder the ribose in a coffee grinder before mixing it into recipes
Ribose is very hydrophilic -- it will dissolve very easily in water and milk
Ribose mixes well with melted chocolate if the ribose is in powdered form

FourHourLife.com

Ribose caramelizes at low temperatures (<200 deg F)
Dust it on meat before grilling for an unparalleled "meaty" flavor
It's a secret ingredient in BBQ dry rubs, which typically contain paprika,
brown sugar, allspice, etc
It can be used in water to make fudgy caramel candies

Sources of D-Ribose

Information

Saccharin @ wikipedia.org (05/22)

It is 550 times as sweet as sugar (other sources say only 300 times sweeter)
It has a bitter or metallic aftertaste, especially at high concentrations
It is used to sweeten products such as drinks, candies, cookies and medicines
The free acid of saccharin has a low pKa of 1.6

Artificial Sweeteners @ riverview.org (05/22)

Saccharin is heat stable, but its bitterness may be enhanced when heated
The ADI is 28.4 packets per day (15 mg/kg body weight)
Another source listed the ADI as ~10 packets per day (5 mg/kg body weight)

Sugar Substitutes @ epicurious.com (05/22)

Saccharin leaves a metallic aftertaste in baking, and a lumpy texture

Known side effects

Saccharin can cause allergic reactions (sulonamide compound, like sulfa drugs)
Saccharin has been linked to irritability, insomnia, and short-term problems
with muscle tone

Sources

Recipes

Recipes @ saccharin.org (05/22)

Saccharin Solution @ app.ckbk.com (05/22)

Ingredients

1/2 tsp saccharin
1/4 tsp baking sode
1 pint distilled water

Instructions

Heat to boiling point and bottle

Notes

1 tsp is equal to 1 tsp of granulated sugar
In cooking custards, add when taken off the fire
Do not let it come in contact with tin or iron -- use enamel, glass, china, or
silver ware
Tin and iron will affect the flavor

Information

Splenda Chemical Structure @ scientificpsychic.com (01/19)

Although Splenda is marketed as a no calorie sweetener, it is a mixture of dextrose,
maltodextrin, and sucralose
Ten grams of Splenda contain 9.00 g of carbohydrates consisting of 8.03 g of sugars
(dextrose) and 0.96 grams of starch (maltodextrin)
Thus, 10 grams of Splenda have 33 Calories compared to 39 Calories for an equal weight
of sugar
The calories of Splenda come from the carbohydrates
Recent formulations of Splenda use resistant maltodextrin which can be categorized as
fiber

Splenda @ wikipedia.org (01/19)

Splenda Packet Conversion Chart @ lowcarber.org (01/19)

Problems with Splenda

Information

Stevia directly stimulates the pancreatic beta cells to produce more insulin
It doesn't raise blood sugar because it causes more insulin to be secreted
It been slow to catch on with mainstream consumers, partly because of a bitter
licorice aftertaste

Stevia @ wikipedia.org (01/19)

Stevioside: Stability and Interaction with Food Ingredients

Incubation of solid stevioside at elevated temperatures for 1 h showed good
stability up to 120°C, whilst forced decomposition was noticed at temperatures
exceeding 140°C.

Glycemic Index (per 2 tsps of sugar)

00 SteviaPlus
70 Sugar
80 Splenda
80 Equal
80 Sweet'N Low
80 Most Stevia brands

Stevia @ factorfad.com (01/19)

Truvia/PureVia are chemically pure Rebaudioside A derived from genetically modified plants

Stevia @ examine.com (01/19)

SweetLeaf Sweet Drops

On the bottle, 1 "serving" is equal to 5 drops
SweetLeaf Stevia Conversion Chart (01/19)

Sweet Drops: 4 drops = 1 tsp sugar
Sweet Drops: 8 drops = 2 tsp sugar
Sweet Drops: 12 drops = 1 tbsp sugar

Liquid Stevia

Liquid Stevia @ lowcarbfriends.com

Formula #1

1 tsp stevia powder + 1 tsp water
1/4 tsp mixture = 1 cup sugar

Liquid Stevia, Page 7 @ lowcarbfriends.com

Mix one part Steviva Brands stevia powder with four parts warm water
That is 1 tbsp stevia powder and 4 tbsp warm water
1 tsp solution = 1 cup sugar

Measuring Stevia Powder

Many people use 1 tsp of white stevia powder for each cup of sugar

Other people use 1/3-1/2 tsp of white stevia powder for each cup of sugar

Stevia Conversion Chart @ carriagehousemedicine.com (01/19)

2 tsp sugar = 1/16 tsp stevia extract powder
2/3 cup = 32 tsp sugar = 1 tsp stevia extract powder

NOW Foods Better Stevia Sweetener Equivalency Chart @ nowfoods.com

1 cup sugar = 2 tsp white stevia powder

Conversion Chart @ cookingwithstevia.com

3/4 cup sugar = 1 tsp stevia powder
1 cup sugar = 1 1/2 tsp stevia powder

Stevia Sugar Substitute @ stevia.com

1 cup sugar = 1/3 to 1/2 tsp stevia extract powder
2 cups sugar = 2/3 to 1 tsp stevia extract powder

Stevia -- What It is and How To Use It @ wholenewmom.com (01/19)

Stevia extract is about 300 times sweeter than sugar
Stevia extract powder often has a teeny plastic scoop; I found the same scoops at
soap-making companies
Standard "stevia scoop" is 1/32 tsp
Typically, 1 scoop of stevia powder equals 2 Tablespoons of sugar
So, 1 tsp of stevia powder equals 4 cups of sugar
Strengths can vary from brand to brand; this is also true for the liquid drops
She uses NuNaturals in her recipes

Measuring Spoons for Stevia

Drop = 1/64 tsp = 20 mg stevia = 6 grams sugar = 1 1/2 tsp sugar
Smidgen = 1/32 tsp = 40 mg stevia = 12 grams sugar
Pinch = 1/16 tsp = 80 mg stevia = 25 mg sugar
Dash = 1/8 tsp = 160 mg stevia = 50 grams sugar
Tad = 1/4 tsp = 320 mg stevia = 100 grams sugar = 1/2 cup sugar

Recipes

All About Stevia

Stevia works best when it is combined with strong flavors and textures, and with
foods that already have some natural sweetness
A very scant 1/2 tsp of stevia = around 1 c of sugar
When you bake with stevia, it is important to add around 1/4 c more liquid to your
recipe per cup of sugar replaced
Allowing your baked goods to cool completely is beneficial so the stevia can mellow out
Pairing stevia with fruit/vegetable that have their own natural sugar equals the best
results with baking
I have not had much luck using it in plain vanilla or chocolate cake/cookies and pies

Homemade Pancake Syrup @ lowcarbfriends.com

1 tsp Liquid Stevia (= 4 cups sugar, 0 carbs)
1 tbsp Imitation Maple extract (3 carbs)
1/2 tsp Imitation Butter Flavor (0 carbs)
1/4 tsp Lemon extract (0.25 carbs)
2 tbsp Glycerine (0 carbs)
1/8 tsp Salt (0 carbs)
1/2 tsp Xanthan Gum (0 carbs)
25 oz Water (0 carbs)

Sources

NOW Foods Better Stevia

Vanilla Liquid Stevia Extract

Easiest Homemade Vanilla Liquid Stevia Extract @ wholenewmom.com (01/19)

Ingredients

1/4 cup water
2 1/4 tsp stevia extract
7 tsp vanilla extract

Directions

Pour water into a small saucepan
Warm over medium heat
Add stevia extract
Heat and stir until stevia is dissolved
Remove from heat
Add vanilla extract
Pour into a small glass bottle with dropper
Note: There will be a little too much to fit into the bottle
Store in the fridge so the flavor will last longer

Use NuNaturals NuStevia Pure White Stevia Extract

Powered Spenda

Liquid Spenda

Easiest Way to Mix Sucralose Powder @ lowcarbfriends.com

Tsp sucarlose Powder = Cups sugar equivalence:
1 tsp = 12.50 cups
1/8 tsp = 1.56 cups
1/32 tsp = 0.39 cups = 18.7 tsp sugar
1/64 tsp = 0.20 cups = 9.6 tsp sugar

Make Your Own Liquid Splenda @ lowcarbfriends.com

Formula for VERY SWEET dry mixture

1 tsp sucralose + 2 tsp of Fibersol-2
Mixture would be 200 times sweeter than sugar
1/4 tsp of the mixture would be equal to 1 cup of sugar

Formula #2 for a Splenda Quick Pack

1 tsp sucralose powder
12.5 tbsp Digestive Resistant Maltodextrin
1/16 tsp of the mixture = 1 tsp sugar
1/8 tsp of the mixture = 1 Splenda packet

Liquid Splenda: 1/4 tsp = 48 tsp sugar equivalence (strength is 600 times sugar)

1 tsp dry sucralose is approximately equal to 600 tsp of sugar

Formula for 25% w/v Solution (liquid Sucralose)

6 2/3 tbsp sucralose powder + 1 cup water
OR, 20 tsp sucralose powder + 1 cup water
1/4 tsp liquid sucralose = 1.04 cups of sugar (200 times sugar)

Make Your Own Liquid Spenda @ lowcarbfriends.com

Manufacturure's Instructions

The directions that came with my powder said to put a teaspoon of the powder to
3/4 cup of water
Heat in microwave
1 tbsp of that liquid is equal to 1 cup of Splenda

Another recipe

1 tbsp of sucralose + 3 tbsp distilled water
1/4 tsp of mixture = 1 cup of sugar

Sucarlose powder and liquid @ puresucralose.com (01/19)

Mix 1 tablespoon pure sucralose powder to 4 tablespoons warm water (basically a 1:4 ratio)
Yields a concentrated and stable liquid of about 2 teaspoons sugar sweetness per
drop of water
This product was very quick and easy to mix
It can be stored at room temperature for at least a year without deteriorating
Let's do the math
(1 tbsp sucralose * 600 sugar/sucralose) / (4 tbsp * 3 tsp/tbsp * 76 drops/tsp)
= 0.65 tbsp sugar / 1 drop solution
= 2 tsp sugar / 1 drop solution

Sources

Powder Sucralose

Sucralose and Erythritol

Flavorings

Sugar-Free Xylitol Honey (Commercial Sources)

Sugar-Free Honey

Gwen's Stevia Syrup Recipe @ gwens-nest.com (01/19)

Ingredients

3 cups water
1 tbsp Maple extract (Frontier brand)
1/2 tsp butterscotch flavoring (or butter, or caramel)
2 drops NOW orange essential oil, or 1/8 tsp orange extract
1/8 tsp salt
1/4 tsp stevia extract or your favorite sweetener to taste
1/2 to 1 tsp glucomannan powder

Instructions

Combine all of the ingredients except for the glucomannan into a medium saucepan
Once everything is stirred in together, sprinkle the glucomannan lightly over
the surface of the syrup, and whisk to incorporate
Taste and adjust the flavors (the gluccie tends to subdue the flavors somewhat)
Turn the heat up to medium.
Let your syrup come to a simmer, and thicken.
It will thicken up a bit more when cooled/chilled.
If you like a thicker syrup, use a little more gluccie, up to 1 tsp.
Serve warm or cold

Homemade Maple Pancake Syrup @ jj-househome.blogspot.com (01/19)

Ingredients

1 cup water
1 tbsp Truvia
1/2 - 1 tsp glucomannan (sprinkled it while whisking)
1 tsp maple extract

Instructions

Mix water and sweetener, and let come to a boil.
After the solution starts to boil slightly, sprinkle the glucomannan whisking
the whole time to mix well.
Let this come to a boil for 1 minute and then turn off burner.
Place the syrup off the burner and add in the 1 tsp of maple extract.
This should thicken as it cools.

Homemade Pancake Syrup Recipes @ lowcarbfriends.com

Recipe #1

1 tsp Liquid Stevia (= 4 cups sugar, 0 carbs)
1 tbsp Imitation Maple extract (3 carbs)
1/2 tsp Imitation Butter Flavor (0 carbs)
1/4 tsp Lemon extract (0.25 carbs)
2 tbsp Glycerine (0 carbs)
1/8 tsp Salt (0 carbs)
1/2 tsp Xanthan Gum (0 carbs)
25 oz Water (0 carbs)
Blend everything with a hand mixer

Recipe #2

1 cup warm water
16 pkts splenda (or 2/3 cup bulk splenda)
2 tsp maple extract
1/2 tsp vanilla extract
shake of salt
1/2 tsp guar gum

Kim's Kitchen Maple Syrup

Ingredients

1/3 cup xylitol sweetener
1/4 tsp powdered stevia (Stevita Spoonable Stevia -- has some erythritol added)
1 tsp tapioca flour (or your choice of thickener)
3/4 cup water
1 tsp Frontier Maple Flavoring
1/8 tsp sea salt

Instructions

Mix xylitol, stevia, and tapioca flour together
Add remaining ingredients
Heat to boiling on medium heat, stirring constantly
It will thicken to maple-syrup consistency
Pour into a container so that it can cool
Store in a covered container in the frig

Linda's Cinnamon Pancake Syrup @ genaw.com (01/19)

Ingredients

1/4 teaspoon oil
1/4 teaspoon xanthan gum
1 tablespoon butter
1/2 cup water
1/4 teaspoon blackstrap molasses
1/4 cup granular Splenda or equivalent liquid Splenda
1/4 teaspoon vanilla
1/4 teaspoon maple flavoring
1/4 teaspoon cinnamon

Instructions

Mix the oil and xanthan gum in a 2-cup glass measuring cup
Add the butter; microwave on HIGH about 40 seconds to melt the butter
Whisk in the remaining ingredients
Microwave on HIGH about 30 seconds
Whisk well, then let stand a few minutes to allow the syrup to thicken
You can serve this warm or let it cool to room temperature first
I recommend storing it in the refrigerator.
Makes about 1/2 cup

Linda's Low Carb Maple Syrup @ genaw.com (01/19)

Ingredients

1/4 tsp oil
1/4 tsp xanthan gum
1 tbsp butter
1/2 cup water
1/4 cup granular Splenda or equivalent liquid Splenda
1/4 tsp vanilla
1/4 tsp plus 1/8 teaspoon maple flavoring

Instructions

Mix the oil and xanthan gum in a 2-cup glass measuring cup
Add the butter; microwave on HIGH about 40 seconds to melt the butter
Whisk in the remaining ingredients
Microwave on HIGH about 30 seconds
Whisk well, then let stand a few minutes to allow the syrup to thicken
You can serve this warm or let it cool to room temperature first
I recommend storing it in the refrigerator
Makes about 1/2 cup

Maple Pancake Syrup (Low-Carb) - Recipezaar (01/19)

1 1/2 cups splenda granular (packets)
1 1/2 cups water
1 tbsp cornstarch
1 - 1 1/4 tsp maple extract
1/2 tsp vanilla extract

Pumpkin Spice Latte Syrup @ joyinourjourney.com (01/19)

Ingredients

1/2 cup Truvia
1/2 cup water
pinch of salt
2 tsp. pumpkin pie spice
1/4 cup canned pumpkin

Instructions

In a small saucepan, heat sweetener, water, and salt on medium-low heat
Whisk in the rest of ingredients and simmer for 10-15 min on low or medium-low,
stirring occasionally until sauce has thickened
Syrup may be stored in refrigerator for up to one week
It thickens as it cools

Simple Syrup with Splenda or Xylitol @ chowhound.chow.com (01/19)

Ingredients

1 cup water
1 cup Sucralose
1 tsp Cornstarch
1 capful Mapelene maple extract

Instructions

Place water in a pan, and dissolve the cornstarch in it
Heat to boiling on the stove over med-hi heat, stirring constantly
Simmer until the desired thickness is achieved and remove from heat source
Add Sucralose and Mapelene and stir until completely dissolved
Allow to cool
Store in the the refrigerator

Comments

Xylitol is wonderful. You need a equal measure of xylitol to water, a good maple
flavoring/extract, maybe a little vanilla, and something like xanthan gum to thicken.
Just simmer until you have the consistancy you want.
The "cooling" effect that is assciated with most sugar alcohols will wear off after
a day or so.
I have tried using erythritol, but it seems to take on a strange metallic-like
hairspray taste if more than 1/4-1/3 cup is used in anything.
When boiled, erythritol becomes molten-like forming sheets of crystal on the surface
and leaving behind a grainy textured watery syrup

Sugar-Free Berry Syrup Recipe @ gwens-nest.com (01/19)

Ingredients

2 cups (14-16 oz.) frozen berries of your choice
2 cups water
sweetener to taste
1/2 tsp gluccomannan
pinch of salt
2 drops pure lemon essential oil, optional (I like NOW brand)
1 tsp vanilla extract, optional

Instructions

Pour berries and water into a medium saucepan, over medium low heat.
Add your sweetener to taste.
Gently shake the 1/2 tsp of gluccomannan over the surface of the water,
while stirring to blend. It will spread, but you don't want any clumps.
Add in a pinch of salt, and any other optional ingredients.
Taste and adjust the sweetness/flavor.
Mash larger berries if desired.
Heat until thickened and bubbly.
Pour into a jar and keep in the fridge

Sugar-Free Maple Syrup @ stuffimakemyhusband.com

1/4 tsp flavorless oil
1/4 tsp xanthan gum
1 tbsp butter or coconut oil
1/2 cup water
1/4 cup erythritol, powdered in a spice grinder
1 dropperful (about 28 drops) vanilla-flavored stevia such as Sweetleaf Vanilla Creme

OR 2 packets stevia + 1/4 tsp vanilla extract
OR 4 tsp additional erythritol + 1/4 tsp vanilla extract

1/2 tsp maple flavoring or maple extract

Sugar-Free Maple Syrup Recipe @ recipes.steviva.com

Ingredients

2 teaspoons Maple Extract
2 cups water
1/2 cup Fructevia, Steviva Blend or 1/8 teaspoon of Stevia
1 teaspoon Guar Gum or Xanthan Gum, or 1/2 of each

Instructions

Bring two cups of water to a boil in a medium or small sauce pan
Add maple extract to the boiling water; I ordered mine online at Cook's (it's all natural)
Add the Fructevia, Steviva Blend or a 1/8 teaspoons of Stevia
Reduce heat to a simmer
Slowly add the Guar Gum or Xanthan Gum, and whisk until fully dissolved
I get my Guar Gum or Xanthan Gum from Bob's Red Mill
Reduce heat and let cool

Sugar Free Maple Syrup @ tjstaste.com (01/19)

Ingredients

2 cups cold filtered water, divided
1/8 teaspoon xanthan gum
1/3 cup xylitol, erythritol, or equivalent sweetener
1/4 teaspoon mineral salt
1 tablespoon maple flavoring
1/2 teaspoon pure vanilla extract

Instructions

Mix 1/4 cup cold water with xanthan gum
Mix remaining water, sweetener, and salt together in a saucepan; bring to a boil
While whisking, mix in the xanthan gum water
Stir constantly until it begins to thicken
Remove from heat and add in maple flavoring and vanilla
Mixture should thicken more as it cools
Store in an airtight container in the fridge

Sugar Free Maple Syrup @ wholesomeyum.com (01/19)

Ingredients

1 cup water
1 cup powdered erythritol
1 1/2 tbsp maple extract
1/2 tsp xanthan gum

Instructions

Whisk together the water, erythritol, and extract
Bring mixture to a gentle boil for about 5 minutes
Pour liquid into a blender
Sprinkle half the xanthan gum on top
Puree immediately, until no lumps remain
Repeat with the remaining xanthan gum
Wait a few minutes to allow the syrup to thicken further
If the erythritol crystallizes, simply reheat and shake/whisk

Information

Recipes

Sources

Information

Truvia @ scientificpsychic.com (01/19)

One packet of Truvia (3.5 grams) contains 3 grams of erythritol, and
"natural flavors" of undisclosed chemical composition

Truvia (01/19)

Homemade Truvia



Bonnie's Links
created by Bonnie Lee Hill,

bonniehill@verizon.net

last modified on September 12, 2022


URL: http://www.bonniehill.net/pages/lcsweeteners.html