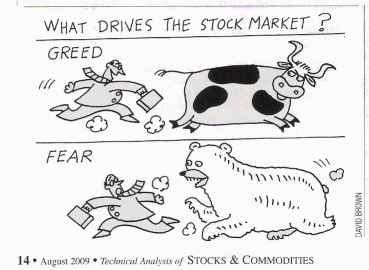 Trading




Audio Updates

Calendars

News

QQQQ


Articles

MyTradingRoom.blogspot.com (05/22)

OTA - The Essentials of Documenting Your Trades: Thought Journal/Trade Journal

You must document the "mechanical" data (entry, targets, stops and exits), and the
"internal" data (thoughts, emotions, and unconscious beliefs)
Results = Thoughts + Emotions + Behavior
A Thought Journal reveals destructive and constructive thought patterns.
A Trade Journal reveals your self-destructive behaviors and positive behaviors.

Was my stop/limit hit, or did I take myself out of the trade?
How long was I in the trade?
How does your actual behavior relate to your trading plan?
You need to identify the weaknesses and strengths of your execution.

The Feedback Loop (of the Thought Journal and Trade Journal process) provides a
roadmap and blueprint of where you want to go and what you want to build.
You can't change what you can't face, and you can't face what you don't know.
Document, record, measure, and track your market participation.

Trade2Win.com (05/22)

Bracket Trader Logger (Excel spreadsheet)

iDailyDiary @ splinterware.com (flexible diary with tables, etc) (05/22)

MyPivots.com (05/22)

StockTickr.com

TradetheMarkets.com aka SimplerTrading.com (05/22)

Edge Ratio (E-Ratio)

E-Ratio Trading Edge @ automated-trading-system.com

Normalize the MAE and MFE by the Average True Range
Determine the average normalized MAE and MFE
Divide the average normalized MFE by the MAE

Expectancy

Maximum Adverse/Favorable Excursion

Profit and Loss

R (Initial Risk) and R-Ratio

R was popularized in "Trade Your Way to Financial Freedom" by Van K. Tharp

1R = initial risk per unit
Total risk = 1R * number of units
If you buy a stock at $8 and set your stop at $6, you initial 1R loss is set at $2/share.
Let's assume you make a profit of $20/share. Since this is 10 times your original risk,
we call it a "10R" profit.
R-Ratio = $20 / $2 = 10

Why R?

R = entry - stop loss (per contract or share)
If 1 point is risked and 5 points are gained (after the trade is closed),
the "R-Ratio" would have a value of 5.

Sharpe Ratio and Modified Sharpe Ratio

Software

Money Management

Brett Steenbarger



Top 10 Trading Rules @ Investopedia.com (05/22)

MyPivots.com (07/08)

Following the Rules (05/22)

Trading the Plan (05/22)

Step #1 - Name and describe the strategy
Step #2 - Setup a measurement and record-keeping tool
Step #3 - Trade the plan
Step #4 - Measure the results

Rob Booker's Trading Plan

Endless Planning and Never Doing

If you'd rather make as little money as possible, here are some things you can do:
Write an endless 30-page trading plan

It should be so detailed as to tell you what time to get up in the morning, what to eat,
and what to wear.
It should go into huge detail about what kinds of trades you take and show you every
example of that kind of trade.
Then each day, you should read the plan and check the plan over and over.
The plan will strangle you, of course, and when something goes wrong in the market that is
outside the scope of the plan, you can lose a bunch of money.
Then you can spend the next 7 weeks re-writing the plan to include the new contingency plan.
Of course, that contingency will never arise again, but something else will.

Here's the alternative:

Have a new, short trading plan every day, written on a notecard.
Tape it to your computer monitor.
Write on it the maximum risk you'll take, a few words about your psychological state,
and maybe a goal for what you are trying to achieve.

Then at the end of the day, write some notes about your performance, some things you
want to improve tomorrow, and then file it away.

Buy $7 million worth of computer equipment before you make any money

Go out and buy the most expensive computer setup you can.
Get a desktop and a laptop.
Buy expensive software.
Design an entire office with new furniture.
You'll be playing the role of a trader even though you'll not have made much money yet.

Here's the alternative:

Borrow a computer or buy a cheap one.
Trade at Starbucks or a place with free wi-fi.
Buy nothing expensive.
Earn the money to improve your equipment.
People tell me all the time that they need the best equipment that won't "go down" when
they are trading.
I say: get a cheap cell phone and be able to call your broker if something goes wrong.
An expensive laptop and nice furniture are not going to trade for you. They just take money
out of your trading account that you could be using to produce returns.

Summary:

Only spend money on what is going to help you make more money, or what is going to help you
spend less money.
In trading, very few things matter.
Have a simple plan.
Have a simple, inexpensive setup.
Risk as little as possible.

Ten Steps to Building a Winning Trading Plan @ investopedia.com (05/22)

Mike Reed EzineArticles.com (05/22)

Trade2win.com (05/22)

TradingSuccess.com (Ray Barros) (05/22)

Exits

Maximum Adverse/Favorable Excursion

Scaling In and Out

Stops

Most traders set stops based on what they can afford to lose. For example,
if the trader can afford to lose $5,000, he might trade 10 contracts and risk
$500 per contract. This is fine if the typical fluctuations in the market and
in the time-frame he is trading are less than $500, but what if they are not?

A trader who sets stops with such assumptions is like a sailor with a small
boat who stands by the sea and commands that the waves be no higher than two
feet because that is all his boat can handle. When he sets sail into four-foot
seas, he is instantly capsized. Like the sea, the market doesn't care how big
a boat is. If the waves in the sea or the risk level in the market is too great
to withstand an average trading day without getting stopped out, the trader does
not belong in that market. On the other hand, when trading in such a market, a
trader should not set stops that will force him out on noise, regardless of
whether the trade might have been profitable.

"Trading With The Odds: Using the Power of Statistics to Profit in the Futures
Market" by Cynthia Kase

Stop Theories (05/22)
Anatomy of a Spike @ mypivots.com (05/22)
Videos

Joe Duffy: TargetZone Trading @ youtube.com (02/11/2009) (05/22)

If you can learn to breakeven, you will be OK

Joe Duffy: Cut Your Losses, Let Your Profits Run @ youtube.com (05/22)

Keypoint Market Analytics
Close stops will not cut your losses; you will have a long series of small losses
You should use generous stops
Trailing your stop causes you to leave too much money on the table
Profit targets should relate to the size of your stop
You should take money off the table while the market is moving in your direction

Joe Duffy: Setting Your Trading Stops @ youtube.com (02/08/2010) (05/22)

Keypoint Market Analytics
You can't use tight stops with a mechanical system
StrategyRunner is one of his platforms
A reasonable target is 150% of the initial stop
Never move a stop to breakeven until the market has moved 80-90% of the way to the target
After 2 consecutive closes in his favor (on a 15-min chart), he cuts the hard stop in half
Getting out of part of the position to pay for the position is a losing strategy
Strategy Exchange


Comments by Ed Seykota

Your real trading system is the set of feelings you are unwilling to experience.
Commitment is the power to realize that intention equals result.
Win or lose, everybody gets what they want out of the market. Some people
seem to like to lose, so they win by losing money.
My experience is that about 20% of the activities you perform as a trader
contribute about 80% of your profit - and that the other 80% of the things you
do, have, at best, no effect.
Traders may find that the majority of their trading activities are basically
ritualistic in nature and actually contribute little to the process of trading
successfully. Meanwhile, a few activities, many of them subtle and unconscious,
dominate the trading.
Markets are fundamentally volatile. No way around it. Your problem is not in
the math. There is no math to get you out of having to experience uncertainty.

You not only seem to want the perfect trading system, you seem to want it to
appear as a definite set of rules.
The complexity of a trading system has little to do with the markets and little
to do with the math; it has mostly to do with your emotions.
The difference between various optimizations of your system is likely much less
than the difference between sticking to it and not sticking to it - and that's where
TTP comes in.
A market has no inherent trend. It only has a price, now. A trend is a notion you
bring to the market, depending on your own definition of trend.
A losing trader can do little to transform himself into a winning trader. A losing
trader is not going to want to transform himself. That's the kind of thing winning
traders do.

The Trading Tribe (Ed Seykota) (05/22)

Articles and Links

The Whipsaw Song

Free Videos

Comments by Ed Seykota

Your real trading system is the set of feelings you are unwilling to experience.
Commitment is the power to realize that intention equals result.
Win or lose, everybody gets what they want out of the market. Some people
seem to like to lose, so they win by losing money.
My experience is that about 20% of the activities you perform as a trader
contribute about 80% of your profit - and that the other 80% of the things you
do, have, at best, no effect.
Traders may find that the majority of their trading activities are basically
ritualistic in nature and actually contribute little to the process of trading
successfully. Meanwhile, a few activities, many of them subtle and unconscious,
dominate the trading.
Markets are fundamentally volatile. No way around it. Your problem is not in
the math. There is no math to get you out of having to experience uncertainty.

You not only seem to want the perfect trading system, you seem to want it to
appear as a definite set of rules.
The complexity of a trading system has little to do with the markets and little
to do with the math; it has mostly to do with your emotions.
The difference between various optimizations of your system is likely much less
than the difference between sticking to it and not sticking to it - and that's where
TTP comes in.
A market has no inherent trend. It only has a price, now. A trend is a notion you
bring to the market, depending on your own definition of trend.
A losing trader can do little to transform himself into a winning trader. A losing
trader is not going to want to transform himself. That's the kind of thing winning
traders do.


Bonnie's Links
created by Bonnie Lee Hill,


bonniehill@verizon.net
last modified on May 16, 2022


URL: http://www.bonniehill.net/pages/trading.html